Video - Home Office Ergonomics: Tips and Techniques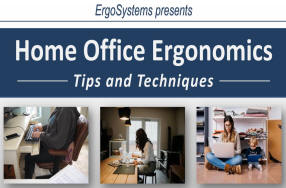 20-minute presentation (three video resolutions available)
Home Office Ergonomics Tips and Techniques 1080P.mp4 (333 MB)
Home Office Ergonomics Tips and Techniques 720P.mp4 (205 MB)
Home Office Ergonomics Tips and Techniques 480P.mp4 (87 MB)
Office Ergonomics Tele-Assessment Option
Over the past several years I have been performing office ergonomics assessments with a Tele-Assessment option. With upfront information and pictures of the individual and their workstation set-up I am able to conduct specific, detailed office ergonomics assessments. Here is the form I use to gather the information and pictures prior to scheduling the assessment.
2021 ErgoSystems Office Ergonomics Tele-Assessment Information Form1.docx
Home Office Ergonomics Self-Assessment and Quick Reference Guide
Home Office Ergonomics Self-Assessment Worksheet and Quick Reference Guide o assist individuals in assessing their home office setups from the ergonomics perspective.
ErgoSystems Home Office Ergonomics Checklist - Fillable Form.pdf
ErgoSystems Home Office Ergonomics Quick Reference Guide.pdf