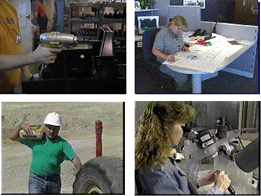 Objective Assessments and Informed Recommendations
Wherever or what ever the job may be, we use accepted ergonomics assessment tools to conduct objective ergonomics assessments.
The analysis is performed by way of a records review, on-site observation, personal interview, questionnaires, surveys and physical measurements. Documentation is accomplished with the use of videotape.
We identify, quantify and prioritize ergonomics risk factors. Then we provide summary recommendations with the level of detail you need to make truly informed decisions. And we assist you in implementing the approved solutions including follow-up as indicated.